Dora Medveczky's project comprises a structure with a section of two adjoined irregular quadrilaterals. It is assembled from slender planks of wood, each connected by flexible rubber joints.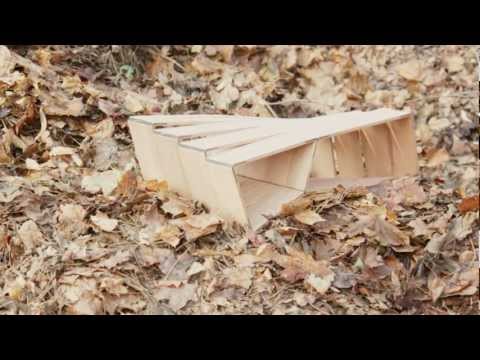 These soft junctures enable the stool to bend and fold according to the rise and fall of the soil and rocks beneath, only to then collapse upon itself to form a comfortable cradle. The Strucchair seats one -anywhere in the landscape you might desire to repose.
One unit means two different sized quadrangles with a joint side. The components are 4 or 8 cm wide and vary in length. in order to help the movement of the structure, the ends of the laths are rounded. There is a slot cut at the ends of the laths, this is where the rubber hinges, which connect the components fit in. The hinges are rubber stripes, Y shaped in the middle of the unit.
designer: Dora Medveczky